Our friends at Evalex Talent Solutions are a really smart bunch of industrial/organisation psychologists and psychometrists. As one of our founding clients, they've been part of the CN&CO journey since 2015.
We were delighted to make use of Evalex in a recent CN&CO Recruit placement in the education sector – so we have first-hand experience of how brilliant they are!
The company recently launched a unique leadership development programme called Elea, which is self-driven, online and iterative. Read more about it in the article below, which was initially published on the Evalex blog.
The next frontier in leadership development is here! The Evalex Leadership Evolution and Accelerator (Elea) is a cloud-based, AI-driven leadership development programme that engages leaders in online development interventions and allows them to reassess progress against development areas on a continuous basis.
The purpose of Elea is to help individuals evolve on their leadership journey and to assist with the acceleration of personal development.
The Elea programme is unique in that it does not put across outdated management concepts, removed from reality and which only exist in textbooks. Rather, it presents the latest and freshest observations of leadership functioning within a business context, highly relevant to today, and based on the reality of what leaders are actually doing (practical), not what they should be doing (theoretical).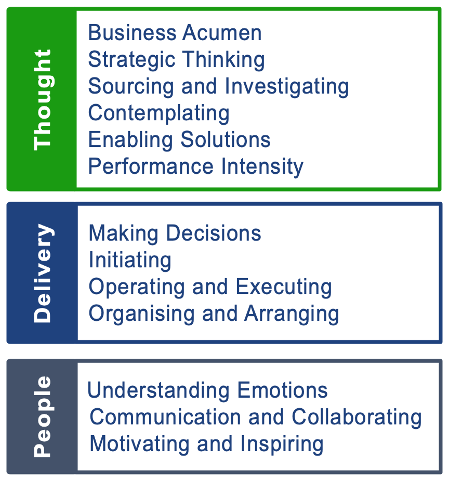 Using the latest Artificial Intelligence technology, Evalex analysed the behavioural responses of the 12 000 leaders who have completed our leadership simulations since our business was established in 1980. The database consists of 33 million words, with input from more than 50 countries and 500 companies across a range of industries. In all, each leader dealt with 16 to 32 business scenarios, situations and challenges.
The database also contains equal race, gender and age representation.
"AI enabled us to investigate and analyse the behaviours, competencies, thought processes and styles that leaders use to deal with business situations, issues and challenges," explains Evalex founder and CEO, Dr Pieter Bronkhorst. "This exercise revealed 46 behavioural themes. From the data we identified and defined 13 domains and 38 competencies, which form part of the Elea Leadership Framework – a truly scientific derivative of competencies that leaders engage in to deal with situations in our modern business world."
The result is an empirical framework built from the ground up, based on what leaders actually do when presented with real world situations and challenges, as opposed to most frameworks that are formulated in focus groups, based on theoretical views and opinions of what competencies leaders in an organisation should possess.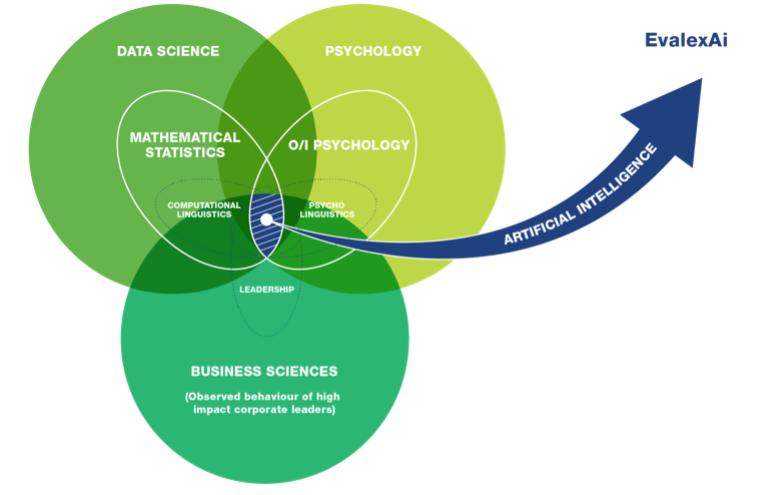 "Artificial Intelligence is an approach that has been part of our lives for a while but has only recently reached a tipping point where it is seriously been considered in the behavioural sciences," says Pieter. "At Evalex we chose one of the foremost software approaches to apply AI to the development of leadership potential.
"The AI solutions we have created were built from a unique space at the point where data science, mathematics, organisation psychology, psychometrics and computational linguistics overlap to create an extremely potent engine that fires up all the algorithms needed to do our research and power our assessment and development engines."
The evolution and acceleration process
Initial diagnostic phase
Elea provides for quick, easy and efficient set-up, which allows participants to complete the process online at their own pace. During the initial diagnostic phase, the participant is required to deal with three to five key leadership situations such as operations, staff, client, sales or financial management scenarios. Once they have completed the diagnostic phase, the AI engine analyses their results and compares them with more than 12 000 other leaders from over 500 organisations across more than 50 countries.
2. Learning and development phase
After completing the initial diagnostic phase, the participant receives immediate access to our cutting-edge online digital development portal. The portal allows the participant to proactively engage with and explore their diagnostic information to build a personalised development plan, which includes their strengths, development areas and learning interventions. This learning phase allows the participant to cultivate a new set of behavioural habits based on carefully curated articles, video clips, training courses and the opportunity to identify subject matter specialists with whom to discuss relevant areas.
3. Second diagnostic phase
Using a "do, learn, do, learn, do, learn" methodology, the system then provides participants with an opportunity to complete Elea a second time with an alternative set of business simulations. Upon completion of this phase, participants can again access their digital development report, which allows them to compare the outcomes of their first diagnostic phase against their second diagnostic phase to find out how they have progressed and further developed relevant areas.
4. Second learning and development phase and ongoing development
The participant's updated development plan will now indicate how he or she has progressed and isolate the areas that still require focus and development. Elea then allows for a third diagnostic iteration and repeat of the learning and development process to embed learning and ensure acceleration.
The benefits of Elea
Real world
Business challenges and content presented in the assessment have been extensively researched to represent the real business issues that leaders in most organisations need to deal with
A ground-breaking leadership framework for the digital age
The Elea Leadership Framework is a truly scientific derivative of competencies that leaders engage in to deal with situations in our modern business world
AI scored
Immediate feedback on results as well as consistency and reliability of scoring
Development interventions
Carefully curated and customisable development actions for each competence
Experiential learning
Development centre process: do, learn, do, learn, do, learn
Powerful analytics
Analytics available at individual and organisational level for talent management
Engaging candidate experience
Gamification and simulated situations create an immersive experience and participants can progress at their own pace
Powerful interactive digital development portal
An online development portal that allows participants to proactively engage with their assessment results, benchmark themselves against various leadership levels and positions, and build a personalised development plan based on strengths and development areas
Scalability
No human assessors and trainers required, quick to deploy, cloud based
Mapping
Elea can be mapped to almost any organisational competence framework
Target population
Elea is aimed at key middle to senior managers in organisations, specialists with a leadership inclination and high potential junior managers requiring exposure to a unique accelerated development opportunity.
For more information, contact David on enquiries@evalex.com.